Peter Desbarats's Collection
Description
Peter Desbarats July 2nd, 1933 - February 11th, 2014

Peter Desbarats was born in 1933 in Montreal, Quebec. He became a Canadian journalist, playwright and author. From 1981-97 he was Dean of the Graduate School of Journalism at Western University. Before coming to Western University, he worked in print and television journalism for 30 years. After Western University, he moved on to serve as a commissioner for the Commission of Inquiry on the Development of Canadian Forces to Somalia. After some time, in 2007, Desbarats returned to the Journalism program at Western University in the Faculty of Information and Media Studies Faculty to teach a course titled "Media and Politics" as the CanWest Global Fellow in Media. Desbarats died at the age of 80, on February 11th, 2014.
During his lifetime, Desbarats reported on a wide variety of topics. He has written most prominently about serious content such as, life and politics in Quebec, the Somalia Cover-Up and the world of journalism. But he also has written works of a different nature like children's books and articles about men having sideburns.

While Desbarats was alive he wrote for a number of newspapers and magazines: The Gazette, The Winnipeg Tribune, The Montreal Star, The Evening Telegram, MacLean's, Saturday Night, Toronto Daily Star, London Magazine, Moving Up and The London Free Press. Desbarats collected a number of his articles after they were printed. After Desbarats's death, his wife Hazel donated the articles to the FIMS Graduate Library in The Faculty of Information and Media Studies. The collection contains articles from all the newspapers and magazines listed here. The majority of the articles are written by Desbarats but there is also a small collection of ones written about him and his career.

The Journalism Program at Western University has recently undergone many changes, this collection serves as a legacy to the program and Desbarats's life.

All of the articles donated to the Graduate Library will be digitized and added to this collection over time. For each article all information that is known is being displayed and the articles are being made searchable during the digitization process.
Contributor(s)
Peter Desbarats
Hazel Desbarats
Collection Items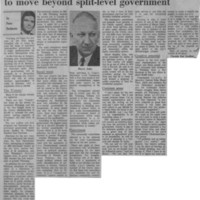 Discussion regarding the merging of Winnipeg district municipalities into a single administration, and the benefits/consequences of such a merge.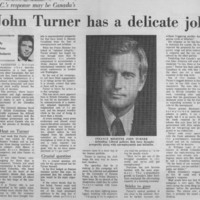 Montreal, Quebec

Discussion on the financial issues surrounding the '72 national elections, particularly focusing on the economic disparity found within British Colombia's upper and lower classes.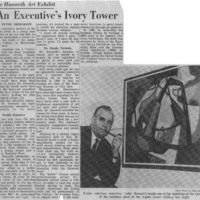 Exhibit review and interview with artist Colin Hawort's one man show, at the Agnes Lefort Gallery in 1961.
View all 115 items