More More More Said the Baby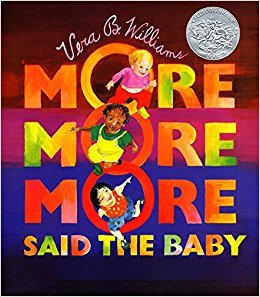 Dublin Core
Title
More More More Said the Baby
Description
A book for parents, grandparents, and other significant adults to enjoy with their littlest ones. This trio of gentle vignettes shows three toddlers gathered up and cuddled by grownups. Little Guy's daddy throws him up high, swings him around, and then gives that little guy's belly a kiss right in the middle of the belly button." Little Pumpkin's grandma has to "run like anything just to catch that baby up" and then rabbles on the toes of her "'best little grandbaby." Both children respond with laughter and with a plea for " 'More. More. More.' " Little Bird's mother tenderly prepares her sleeping child for bed, kissing each of the baby's eyes as a final good-night. " 'Mmm ' breathes Little Bird. 'Mmm. Mmmm. Mmmm.' " The variety of family members depicted, as well as the several ethnic groups identified - even within an individual family - presents an opportunity for much discussion with very young children about what constitutes a family. The pages reverberate with bright colors and vigorous forms. The text, which is painted onto the pages, with each letter bearing its own rainbow of hues, is visually integrated into the design of the book in uniquely successful fashion. The rhythmic language begs to be read aloud, and young listeners are sure to wriggle with delight at all the many ways their favorite grown-ups have of saying "I love you."

Vasilakis, Nancy. "More More More," Said the Baby: Three Love Stories." Horn Book Magazine, vol. 66, no. 6, Nov/Dec90, p. 737. EBSCOhost, search.ebscohost.com/login.aspx?direct=true&db=a9h&AN=10262892&site=ehost-live.

Creator
Williams, Vera B.

Rights
© 1990 by Vera B. Williams

Format
Board Book, 14 x 1.9 x 15.9 cm
Collection
Citation
Williams, Vera B. , "More More More Said the Baby,"
Special Collections
, accessed January 31, 2023,
https://archive.fims.uwo.ca/specialcollections/items/show/326
.