Night Cars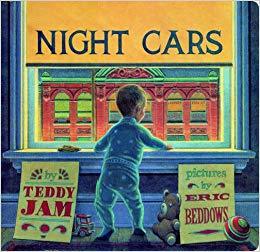 Dublin Core
Description
"...Night Cars is an intriguing book, simple though it may seem. The illustrations, portraits of street life from a bedroom window, chronicle a night in the city. From taxi cabs and garbage trucks, snow plows and fire engines, a young baby and his daddy spend a wakeful night watching the activity on the streets.

The text is gentle, refective and lyrical. "Night cars shining in the night/Stop and bow at each red light/Engines roar/Light turns green/Night cars on their way again."

The illustrations are superb. Softly, muted blues and browns dominate, giving the street a somewhat old fashioned look. The details are delightful. I especially like the sign on the Donut Cafe which states "Sorry, We're Open".

The ending is just as it should be. Bundled into clothes in the early morning light, baby and Daddy head to the Donut Cafe for hot chocolate and coffee where the baby finally falls asleep in his Daddy's arms..."

Haupt, Allison. "Two Treasures for Wide-Eyed Toddlers." The Vancouver Sun, Oct 22, 1988, pp. H5. ProQuest, https://www.lib.uwo.ca/cgi-bin/ezpauthn.cgi?url=http://search.proquest.com/docview/243613169?accountid=15115.
Publisher
Groundwood Books, House of Anansi Press
Date
1988, 2000, 2006, 2010
Contributor
Beddows, Eric (Illustrator)
Rights
Text copyright © 1988 by Teddy Jam
Illustrations copyright © 1988, 2000 by Eric Beddows
Format
Board Book, 22.1 x 22.1 x 1.5cm, 32 pages
Collection
Citation
Jam, Teddy, "Night Cars,"
Special Collections
, accessed January 31, 2023,
https://archive.fims.uwo.ca/specialcollections/items/show/358
.