SLIS 25th Anniversary Display Page 25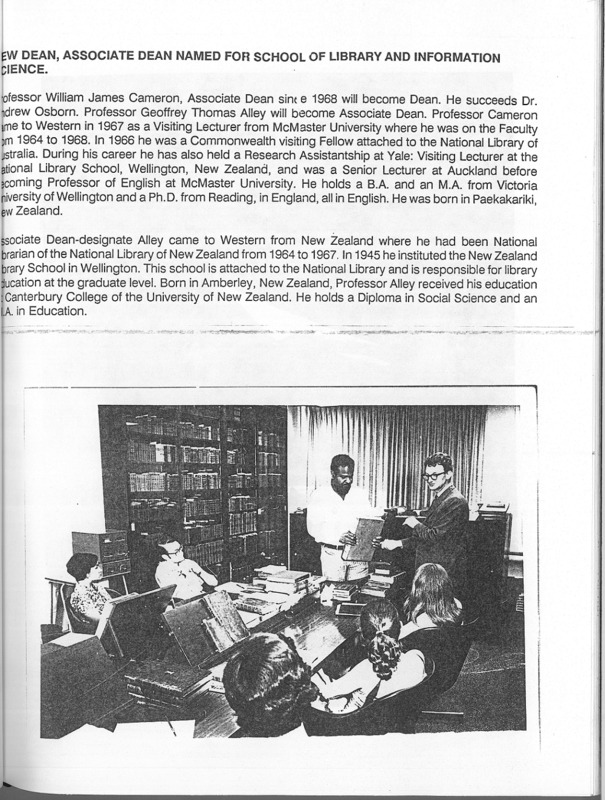 Dublin Core
Title
SLIS 25th Anniversary Display Page 25
Description
An article about the appointment of Professor William James Cameron as the new dean of SLIS after the retirement of Dean Andrew Osborn, with related photograph.
Publisher
FIMS Graduate Library
Identifier
Page 25_Display.tif
Is Part Of
SLIS 25th Anniversary Display
Spatial Coverage
SLIS Building
Text Item Type Metadata
Text
NEW DEAN, ASSOCIATE DEAN NAMED FOR SCHOOL OF LIBRARY AND INFORMATION SCIENCE.
Professor William James Cameron, Associate Dean since 1968 will become Dean. He succeeds Dr. Andrew Osborn. Professor Geoffrey Thomas Alley will become Associate Dean. Professor Cameron came to Western in 1967 as a Visiting Lecturer from McMaster University where he was on the Faculty from 1964 to 1968. In 1966 he was a Commonwealth visiting Fellow attached to the National Library of Australia. During his career he has also held a Research Assistantship at Yale: Visiting Lecturer at the National Library School, Wellington, New Zealand, and was a Senior Lecturer at Auckland before becoming Professor of English at McMaster University. He holds a B.A. and an M.A. from Victoria University of Wellington and a Ph.D. from Reading, in England, all in English. He was born in Paekakariki, New Zealand.

Associate Dean-designate Alley came to Western from New Zealand where he had been National Librarian of the National Library of New Zealand from 1964 to 1967. In 1945 he instituted the New Zealand Library School in Wellington. This school is attached to the National Library and is responsible for library education at the graduate level. Born in Amberley, New Zealand, Professor Alley received his education at Canterbury College of the University of New Zealand. He holds a Diploma in Social Science and an M.A. in Education.

Citation
Unknown, "SLIS 25th Anniversary Display Page 25,"
Special Collections
, accessed March 23, 2023,
https://archive.fims.uwo.ca/specialcollections/items/show/421
.