SLIS 25th Anniversary Display Page 27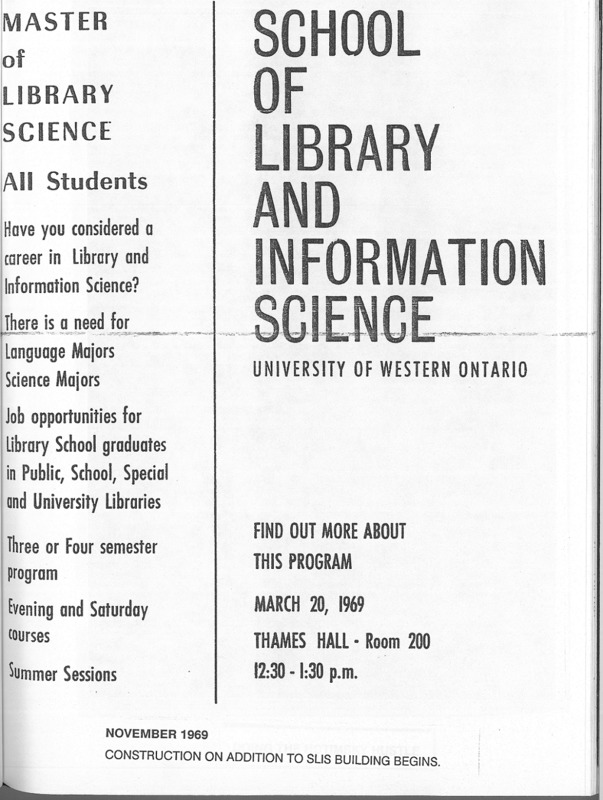 Dublin Core
Title
SLIS 25th Anniversary Display Page 27
Description
A flyer advertising the School of Library and Information Science and inviting prospective students to an information session.
Publisher
FIMS Graduate Library
Identifier
Page 26_Display.tif
Is Part Of
SLIS 25th Anniversary Display
Spatial Coverage
SLIS Building
Text Item Type Metadata
Text
School Of Library and Information Science
University of Western Ontario
Find out more about this program
March 20, 1969
Thames Hall-Room 200
12:30-1:30 pm

Master of Library Science
All Students
Have you considered a career in Library and Information Science?
There is a need of Language Majors
Science Majors
Opportunities for Library School graduates in Public, School, Special, and University Libraries
Three or Four semester program
Evening and Saturday Courses
Summer Sessions

November 1969
Construction on addition to SLIS building begins
Citation
Unknown, "SLIS 25th Anniversary Display Page 27,"
Special Collections
, accessed March 23, 2023,
https://archive.fims.uwo.ca/specialcollections/items/show/422
.