Artemis Fowl: The Graphic Novel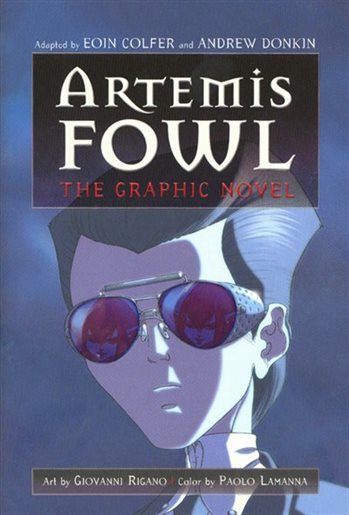 Dublin Core
Title
Artemis Fowl: The Graphic Novel
Description
"Adapted from the fantasy book of the same name, this graphic novel is beautifully illustrated and should prove an enjoyable read to fans and newbies alike. Diabolical 12-year-old genius Artemis Fowl is troubled by his father's disappearance, his mother's descent into madness, and file depletion of the family wealth. Determined to solve at least one of these problems, he hatches a brilliant plan to crack the secrets of file fairy' world. Excellent use of color and shading gives the panels a tremendous sense of light with enchanting effect. Characters are expressively brought to life with fun, exaggerated style. A great addition is the inclusion of "files" from the fairy police force, with mug shots of criminals/monsters."

Rutherford, Dawn. "Colfer, Eoin, & Andrew Donkin, adapts. Artemis Fowl: The Graphic Novel." School Library Journal, Jan. 2008, p. 150. Gale Academic Onefile, https://link.gale.com/apps/doc/A174060438/AONE?u=lond95336&sid=AONE&xid=132437f8. Accessed 7 Oct. 2019.
Creator
Colfer, Eoin
Donkin, Andrew
Publisher
Hyperion Books for Children
Contributor
Rigano, Giovanni (Illustrator)
Lamanna, Paolo (Colorist)
Holt, Megan Noller (Fact file art elements by)
Rights
Text copyright © 2007 by Eoin Colfer
Illustrations copyright © 2007 by Giovanni Rigano

Format
Softcover book, 15.6 x 1 x 22.9 cm
Collection
Citation
Colfer, Eoin Donkin, Andrew, "Artemis Fowl: The Graphic Novel,"
Special Collections
, accessed December 9, 2023,
https://archive.fims.uwo.ca/specialcollections/items/show/432
.