SLIS 25th Anniversary Display Page 6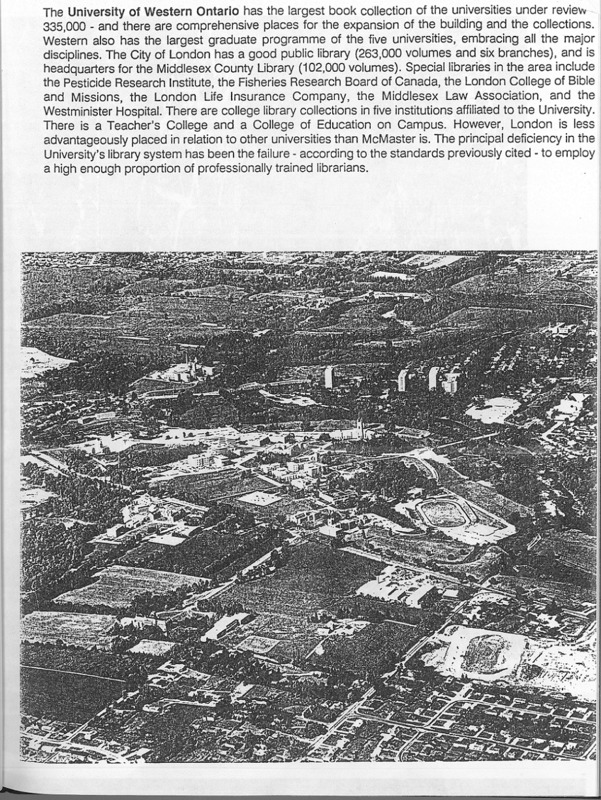 Dublin Core
Title
SLIS 25th Anniversary Display Page 6
Description
A summary of the benefits and drawbacks to locating a new school of library and information science at University of Western Ontario, and an aerial view of campus
Publisher
FIMS Graduate Library
Identifier
Page 6_Display.tif
Is Part Of
SLIS 25th Anniversary Display
Text Item Type Metadata
Text
The University of Western Ontario has the largest book collection of the universities under review - 335,000 - and there are comprehensive places for the expansion of the building and the collections. Western also has the largest graduate programme of the five universities, embracing all the major disciplines. The City of London has a good public library (263,000 volumes and six branches), and is headquarters for the Middlesex County Library (102,000 volumes). Special libraries in the area include the Pesticide Research Institute, the Fisheries Research Board of Canada, the London College of Bible and Missions, the London Life Insurance Company, the Middlesex Law Association, and the Westminister Hospital. There are college library collections in five institutions affiliated to the University. There is a Teacher's College and a College of Education on Campus. However, London is less advantageously placed in relation to other universities than McMaster is. The principal deficiency in the University's library system has been the failure - according to the standards previously cited - to employ a high enough proportion of professionally trained librarians.
Citation
Unknown, "SLIS 25th Anniversary Display Page 6,"
Special Collections
, accessed March 23, 2023,
https://archive.fims.uwo.ca/specialcollections/items/show/476
.