SLIS 25th Anniversary Display Page 42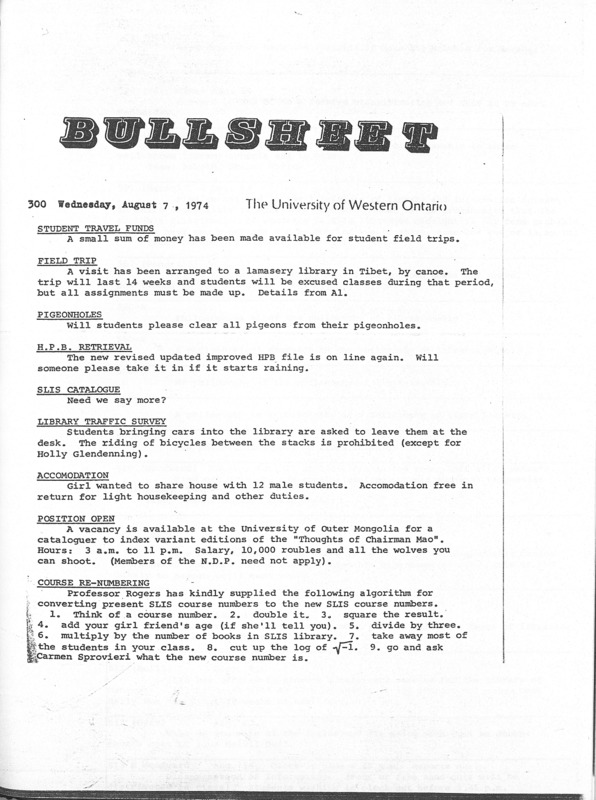 Dublin Core
Title
SLIS 25th Anniversary Display Page 42
Description
Scanned image of a humorous student newsletter entitled "Bullsheet"
Publisher
FIMS Graduate Library
Identifier
Page 42_Display.tif
Is Part Of
SLIS 25th Anniversary Display
Spatial Coverage
SLIS Building
Text Item Type Metadata
Text
BULLSHEET

300 Wednesday, August 7, 1974 The University of Western Ontario
STUDENT TRAVEL FUNDS
A small sum of money has been made available for student field trips.
FIELD TRIP
A visit has been arranged to a lamasery library in Tibet, by canoe. The trip will last 14 weeks and students will be excused classes during that period, but all assignments must be made up. Details from Al.
PIGEONHOLES
Will students please clear all pigeons from their pigeonholes.
H.P.B. RETRIEVAL
The new revised updated improved HPB file is on line again. Someone please take it in if it starts raining.
SLIS CATALOG U E
Need we say more?
LIBRARY TRAFFIC SURVEY
Students bringing cars into the library are asked to leave them at the desk. The riding of bicycles between the stacks is prohibited (except for Holly Glendenning).
ACCOMODATION
Girl wanted to share house with 12 male students, Accomodation free in return for light housekeeping and other duties.
POSITION OPEN
A vacancy is available at the University of Outer Mongolia for a cataloguer to index variant editions of the "Thoughts of Chairman Mao".
Hours: 3 a.m. to 11 p.m. Salary, 10,000 roubles and all the wolves you can shoot.(Members of the N.D.P. need not apply).
COURSE RE-NUMBERING
Professor Rogers has kindly supplied the following algorithm for converting present SLIS course numbers to the new SLIS course numbers. 1. Think of a course number. 2. double it. 3. square the result. 4. add your girl friend's age (if she'll tell you). 5. divide by three. 6. Multiply by the number of books in the SLIS library. 7. Take away most of the students in your class. 8. Cut up the log of √ -1. 9. Go and ask Carmen Sprovieri what the new course number is.

Citation
Unknown, "SLIS 25th Anniversary Display Page 42,"
Special Collections
, accessed January 29, 2023,
https://archive.fims.uwo.ca/specialcollections/items/show/485
.