PhD candidate: Danica Pawlick-Potts
Creating a research road-map: Indigenous researcher Danica Pawlick-Potts reflects on the significance and spirit of the Smoke Signals radio archive
June, 2020
When Danica Pawlick-Potts embarked on her post-graduate studies at Western's Faculty of Information and Media Studies, she had no idea she would eventually be working on an effort to preserve an Indigenous radio program.
Pawlick-Potts, a graduate of the Master of Library and Information Science (MLIS) program at Western, is a research assistant with the Smoke Signals project, and has been involved from the very beginning.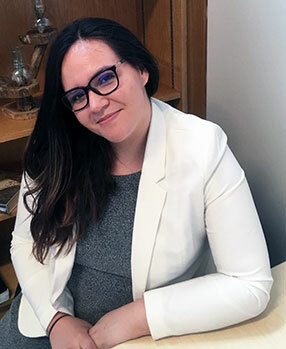 "It was very serendipitous," she said, explaining how her involvement with the archive began in her first year as a PhD student. She was helping to develop a new MLIS course focused on Indigenous issues when, in the midst of that work, the team learned about a collection of tapes documenting the long-running Smoke Signals radio program.
That collection would inspire the archive project, which Pawlick-Potts officially joined in 2019 after being awarded a FIMS Research Scholarship.
While working on the Smoke Signals project seemed like a natural step for Pawlick-Potts, it also shows the breadth of her research interests. It's certainly a departure from her own PhD research, which examines the relationship between humans and artificial intelligence. The Smoke Signals project is a chance to let her mind go somewhere entirely different, she explained. It's also a bit more personal.
Pawlick-Potts is originally from western Canada, and although she grew up in the city, her family has ties to the Alexis Nakota Sioux Nation in northern Alberta. She is part Stoney and part Cree, on her fathers' side. The Smoke Signals project has been an opportunity to build on her connection to her Indigenous roots.
"I do feel like it's very rewarding to kind of do this work both to learn more and be exposed to more culture and knowledge," she said, adding that it's also gratifying to work on a project that is committed to honouring Indigenous culture, and conducting research in a respectful way.
One of the defining characteristics of the project, she explained, is its commitment to creating an archive that truly reflects Indigenous ways of knowing. The team is not simply employing Western archival practices "and kind of shoving the Smoke Signals radio shows […] into that box," she said.
"We're trying to make something that expresses the spirit of the show […] and trying to have the archive and the way it's treated and displayed reflect that."
That means consulting with the creators of the show, Dan and Mary Lou Smoke, at every step of the way.
"I think so far the most rewarding moments are when Dan and Mary Lou," she said, "they're just so excited with the work we're doing and that this is happening and they're just so excited that their show is going to be archived and shared with more people."
"So that's really rewarding in itself."
The process of careful listening
After spending months sorting, and identifying the contents of the audio tapes associated with the Smoke Signals radio program, Danica and fellow student researcher Serena Mendizabal are now beginning to listen.
It's an activity that goes far beyond simply putting on headphones, and pressing play. They're taking note of every word, and transcribing as they go.
"Through that transcription process, you really engage in listening closely to what they're saying and try to get as much out of it as you can," Pawlick-Potts explained.
It's a challenging and time consuming process. The program has welcomed hundreds of guests over the years, many of whom share words in their traditional languages which will need to be identified.
"It was really important to me and to us to kind of be respectful and identify those correctly and not just kind of gloss over [them]," she said.
While the transcription process may not be easy, it also forces the listener to slow down and demands full attention. The process of careful listening also reflects the oral traditions and storytelling that are so important in Indigenous culture, Pawlick-Potts noted.
A spirit of celebration
As for why it's so important for those stories to be preserved, Pawlick-Potts points to a spirit of celebration and pride.
"A lot of the time in Canada when we talk about Indigenous peoples and Indigenous histories, it's a lot of the atrocities and the struggling and the suffering that was inflicted on Indigenous peoples, and that's really important," she said.
"But something that Smoke Signals does is that it celebrates a lot of the accomplishments and the stories of different people and it really shows the positive aspects of the culture […] so I think preserving something like this is really important because it gives a window into that other aspect of history that I think a lot of Canadians aren't exposed to that much normally."
The team will face new challenges, she noted, as they move forward with the Smoke Signals project, and begin making more of the audio public. Few models exist for the archival preservation of an Indigenous radio show, so she knows they will be blazing a trail. And as they do so, they'll be thinking about how best to display the archive in a way that continues to captures the true spirit of Smoke Signals.
"I feel like it is this really interesting, never-been-done-before kind of puzzle that we're going to have to figure out," she said. "So I'm just kind of excited to do that work."