When We Were Very Young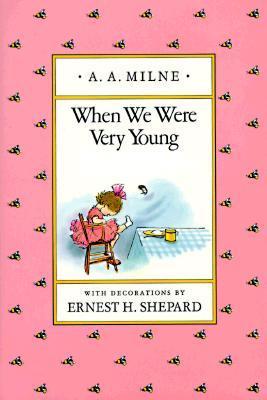 Dublin Core
Title
When We Were Very Young
Description
Writing verse for children is not so easy a trick as it
seems-a fact attested by many failures. Mr. Milne's
rattling rhymes, first printed in Punch, are engaging
enough to turn the trick-one thinks that any child would
love to say them. They are as nonsensical as nursery
rhymes should be, but with a sly flavor of satirical whim
sicality.

And all sorts of funny thoughts
Run round my head:
"It isn't really
Anywhere!
It's somewhere else
Instead!"

And surely such a ballad as The King's Breakfast will
set anyone dancing, young or old, from toes to tresses.

Works Cited:
Monroe, Harriet. "Thistle-down Verse". Poetry 27.3 (1925): 162–164. Web. 26 Nov. 2015.

Image Citation:
"When We Were Very Young." Google Books. N.p., n.d. Web. 26 Nov. 2015.
Publisher
Dutton Children's Books: New York.
Contributor
Decorations by Ernest H. Shepard
Rights
Copyright, 1924, by E. P. Button. Copyright Renewal, 1952, by A. A. Milne. All rights reserved.
Collection
Citation
A. A. Milne, "When We Were Very Young,"
Special Collections
, accessed January 29, 2023,
https://archive.fims.uwo.ca/specialcollections/items/show/279
.