Son of a Trickster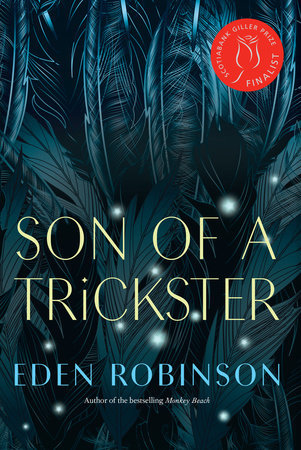 Dublin Core
Description
Everyone knows a guy like Jared: the burnout kid in high school who sells weed cookies and has a scary mom who's often wasted and wielding some kind of weapon. Jared does smoke and drink too much, and he does make the best cookies in town, and his mom is a mess, but he's also a kid who has an immense capacity for compassion and an impulse to watch over people more than twice his age, and he can't rely on anyone for consistent love and support, except for his flatulent pit bull, Baby Killer (he calls her Baby)--and now she's dead.
Jared can't count on his mom to stay sober and stick around to take care of him. He can't rely on his dad to pay the bills and support his new wife and step-daughter. Jared is only sixteen but feels like he is the one who must stabilize his family's life, even look out for his elderly neighbours. But he struggles to keep everything afloat...and sometimes he blacks out. And he puzzles over why his maternal grandmother has never liked him, why she says he's the son of a trickster, that he isn't human. Mind you, ravens speak to him--even when he's not stoned.
You think you know Jared, but you don't.

From Penguin Random House Canada Part One of the Trickster series.
Publisher
Alfred A. Knopf Canada, a division of Penguin Random House Canada Limited
Rights
Copyright Eden Robinson, 2017. All rights reserved.
Format
Book, 336 pages, 16 x 2.8 x 23.9 cm
Type
Young Adult, Coming of Age
Collection
Citation
Eden Robinson, "Son of a Trickster,"
Special Collections
, accessed October 1, 2023,
https://archive.fims.uwo.ca/specialcollections/items/show/301
.