Black Water : Family, Legacy, and Blood Memory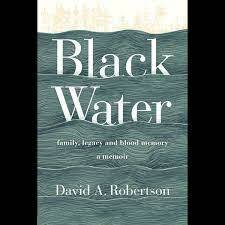 Dublin Core
Title
Black Water : Family, Legacy, and Blood Memory
Description
The son of a Cree father and a white mother, David A. Robertson grew up with virtually no awareness of his Indigenous roots. His father, Dulas—or Don, as he became known—lived on the trapline in the bush in Manitoba, only to be transplanted permanently to a house on the reserve, where he couldn't speak his language, Swampy Cree, in school with his friends unless in secret. David's mother, Beverly, grew up in a small Manitoba town that had no Indigenous people until Don arrived as the new United Church minister. They married and had three sons, whom they raised unconnected to their Indigenous history.

David grew up without his father's teachings or any knowledge of his early experiences. All he had was "blood memory": the pieces of his identity ingrained in the fabric of his DNA, pieces that he has spent a lifetime putting together. It has been the journey of a young man becoming closer to who he is, who his father is and who they are together, culminating in a trip back to the trapline to reclaim their connection to the land.

Black Water is a memoir about intergenerational trauma and healing, about connection and about how Don's life informed David's own. Facing up to a story nearly erased by the designs of history, father and son journey together back to the trapline at Black Water and through the past to create a new future.


Creator
David A. Robertson
Publisher
HarperCollins Publishers Ltd
Format
Book, Hardcover, 288 pages, 15.24 x 2.46 x 22.86 cm
Collection
Citation
David A. Robertson, "Black Water : Family, Legacy, and Blood Memory,"
Special Collections
, accessed October 1, 2023,
https://archive.fims.uwo.ca/specialcollections/items/show/499
.