We All Go Back to the Land : The Who, Why, and How of Land Acknowledgements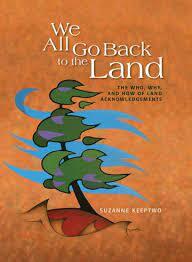 Dublin Core
Title
We All Go Back to the Land : The Who, Why, and How of Land Acknowledgements
Description
Land Acknowledgements often begin academic conferences, cultural events, government press gatherings, and even hockey games. They are supposed to be an act of Reconciliation between Indigenous peoples in Canada and non-Indigenous Canadians, but they have become so routine and formulaic that they have sometimes lost meaning. Seen more and more as empty words, some events have dropped Land Acknowledgements altogether.

Métis artist and educator Suzanne Keeptwo wants to change that. She sees the Land Acknowledgement as an opportunity for Indigenous peoples in Canada to communicate a message to non-Indigenous Canadians—a message founded upon Age Old Wisdom about how to sustain the Land we all want to call home.

This is an essential narrative for truth sharing and knowledge acquisition.
Publisher
Brush Education
Format
Book, 432 pages, 14.61 x 2.49 x 19.05 cm
Collection
Citation
Suzanne Keeptwo, "We All Go Back to the Land : The Who, Why, and How of Land Acknowledgements,"
Special Collections
, accessed December 8, 2022,
https://archive.fims.uwo.ca/specialcollections/items/show/502
.