The Psalter, Old Testament [original]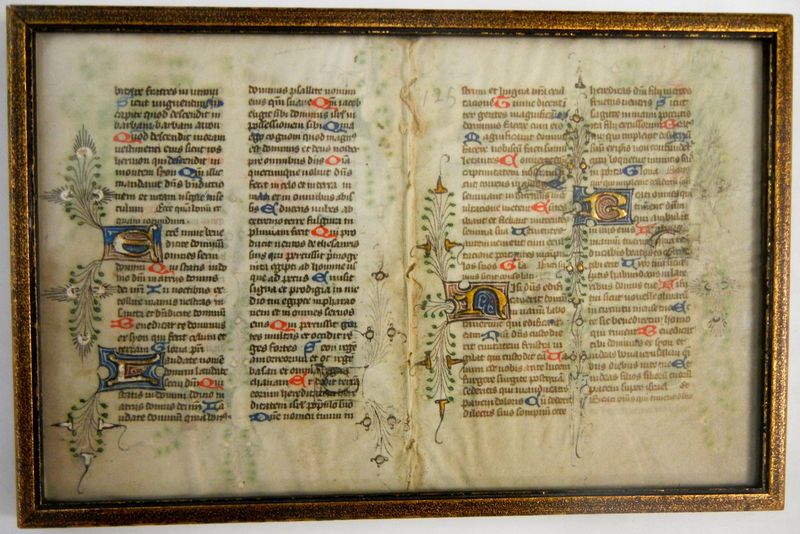 Dublin Core
Title
The Psalter, Old Testament [original]
Subject
1. Illuminated manuscripts. 2. Liturgical book.
Description
Fair to very good; parchment (or vellum) folio of manuscript ; partial sewing evident ; rubrication ; illumination with gilt details ; legible script ; some bleeding of ink and rippling of pages most likely due to humidity/moisture damage (possibly suggest removal from frame because item cannot breathe trapped under glass)
Publisher
Great Britain

Publishing Note: displayed in frame ; back of frame reds: "Liturgical Manuscript - Two Leaves. - 15th Century. Gothic - Great Britain 8 1/2 florins"
Format
Single parchment folio in frame ; 13 cm
Identifier
ID Number 27 ; Bin 2
Abstract
It starts with Psalms 132, a hymn to the legendary Israeli king David.
Document Item Type Metadata
Original Format
Single parchment folio in frame ; 13 cm
Collection
Citation
Unknown, "The Psalter, Old Testament [original],"
Special Collections
, accessed November 30, 2023,
https://archive.fims.uwo.ca/specialcollections/items/show/63
.