As Nasty as they Wanna Be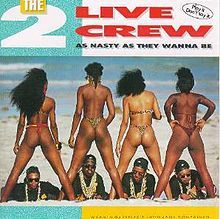 Dublin Core
Title
As Nasty as they Wanna Be
Description
This is the third album by Miami bass group, 2 Live Crew. It was their best selling album but was later declared legally obscene in the United States, and was the first album to ever be declared so. The group later released the album "As Clean as they Wanna be" which was the clean version of the first album. Sales from this second album were notably worse than the first.
Collection
Citation
2 Live Crew, "As Nasty as they Wanna Be,"
Special Collections
, accessed January 31, 2023,
https://archive.fims.uwo.ca/specialcollections/items/show/113
.