Hansel & Gretel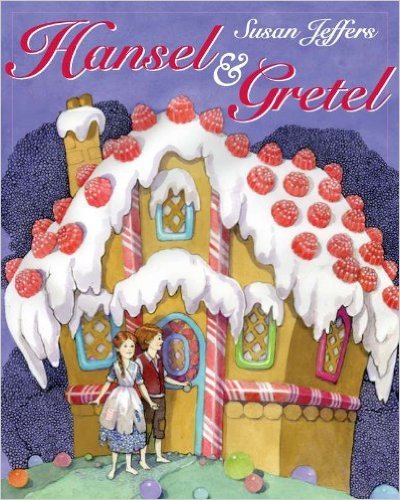 Dublin Core
Description
This story of two poor children, abandoned in the woods and using their wits to outsmart a nasty witch, is so well-known that it needs no further elaboration. Those familiar with Jeffers's 1980 version (Dial) will notice that this edition includes a few changes in the illustrations and a simplified text. Gone is the haunting, detailed portrait on the cover that hints of the dangers in the woods. This version has the smiling siblings poised at the front door of the gingerbread house, ready to step inside. The artwork, done once again in pen, ink, and dyes, is for the most part from the earlier edition. Observant readers will notice a few changes, however. Different foliage and animals surround the children when they are in the woods. The witch's house has had some remodelling work, including new doors and windows. The picket fence made of gingerbread men has received some new colorful icing. The pictures are slightly more muted overall, but are still presented in Jeffers's very recognizable style. This version is a nice effort, but it's difficult to top the near-perfection of the earlier book

Works Cited:
Burg, Roxanne. "Hansel & Gretel." School Library Journal 57.9 (2011): 135. EBSCHOHost. Web. 30 Nov. 2015.

Image Citation:
"Hansel & Gretel." Google Books. N.p., n.d. Web. 30 Nov. 2015.
Creator
The Brothers Grimm
Publisher
Dutton Children's Book: New York.
Contributor
Illustrated by Susan Jeffers. Retold by Amy Ehrlich.
Rights
Copyright © 1980, 2011 by Susan Jeffers. All rights reserved.
Collection
Citation
The Brothers Grimm, "Hansel & Gretel,"
Special Collections
, accessed January 31, 2023,
https://archive.fims.uwo.ca/specialcollections/items/show/281
.