Sylvester and the Magic Pebble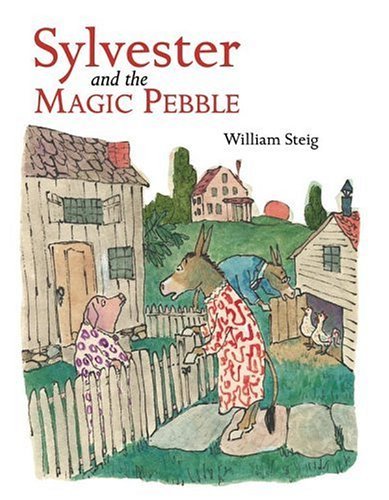 Dublin Core
Title
Sylvester and the Magic Pebble
Description
This is the story of a curious donkey named Sylvester Duncan who discovers a magic pebble and accidentally turns himself into a rock. A loving set of donkey parents do their best to find Sylvester and, in the end, with the help of the magic pebble, succeed. You'll have little trouble interesting youngsters in this perennial favorite.

Works Cited:
Abrahamson, Richard. "Classroom Uses for the Books of William Steig". The Reading Teacher 32.3 (1978): 307-308. Web. 30 Nov. 2015.

Image Citation:
"The Real Mother Goose." Google Books. N.p., n.d. Web. 26 Nov. 2015.
Publisher
Simon & Schuster Books for Young Readers: New York.
Contributor
Book design by Dan Potash.
Rights
Copyright © 1969 by William Steig. Copyright renewed © 1997 by William Steig. All rights reserved, including the right of reproduction in whole or in part in any form.
Collection
Citation
William Steig, "Sylvester and the Magic Pebble,"
Special Collections
, accessed March 29, 2023,
https://archive.fims.uwo.ca/specialcollections/items/show/282
.