Bridge to Terabithia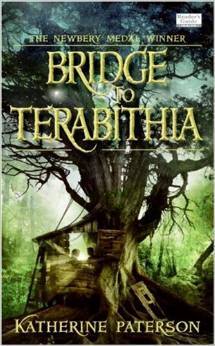 Dublin Core
Title
Bridge to Terabithia
Subject
Young Adult Fiction
Description
This book follows the friendship of Jess and Leslie, eleven year-old boy and girl living in the rural south. To escape the hardships of family and school life and the realities of poverty, Jess and Leslie develop a fantasy world in the woods near their houses. They call this place Terabithia. One evening Jess, after being out of town all day, gets news that Leslie has drowned in the creek that morning trying to swing to Terabithia on a rope that they frequently used. Through his intense grief he decides to still visit Terabithia and brings his little sister with him, assuring that a part of Leslie will live on.

The book has been challenged and even banned over the fact that death is part of the plot, Jess's use of the word "lord" outside of prayer, because Leslie does not attend church, and over claims that the book promotes secular humanism, new age religions, the occult, and Satanism, as well as witchcraft and violence.
Creator
Katherine Paterson
Publisher
New York: Harper Teen
Collection
Citation
Katherine Paterson, "Bridge to Terabithia,"
Special Collections
, accessed December 4, 2023,
https://archive.fims.uwo.ca/specialcollections/items/show/99
.