A Day no Pigs would Die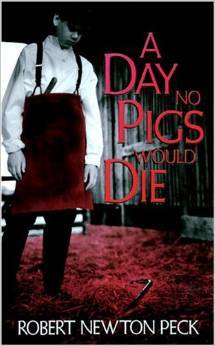 Dublin Core
Title
A Day no Pigs would Die
Subject
Young Adult Fiction, Autobiographical Novel
Description
This coming-of-age story is set in 1920s rural Vermont, and focuses on Robert, a teenage boy who is becoming closer with his father, who is a butcher who slaughters hogs. Robert is given a pet pig, Pinky, from his neighbours after helping their cow give birth. However, Robert's family faces such economic hardships that Pinky is slaughtered. This scene is extremely graphic and accurate.

The book has been challenged for this violent content, as well as for a sexually explicit scene that describes the mating of a boar with a sow, which has been compared to a rape scene.
Creator
Robert Newton Peck
Publisher
New York: Laurel-Leaf
Collection
Citation
Robert Newton Peck, "A Day no Pigs would Die,"
Special Collections
, accessed November 30, 2023,
https://archive.fims.uwo.ca/specialcollections/items/show/100
.