Browse Items (12 total)
Ottawa, Ontario

Many of the Quebecers that Desbarats spoke with during the lead-up to the Quebec provincial election, seemed to feel that the Social Credit Party would win the election. The organization of the party's campaign seemed to be…
Vancouver, Bristish Columbia

The Liberal regional party conference in Vancouver was seen to potentially serve as a staring point for improved relations between the Liberal party and western Canada. Desbarats saw this as a risky move because it…
Toronto, Ontario

"From the time the federal election was called The Star's Ottawa editor, Peter Desbarats, has crossed the country several times with the political leaders. Throughout his travels, he kept a notebook on the campaign. A series of…
Ottawa, Ontario

Desbarats discusses the major campaign topics of the NDP, Liberal and Social Credit parties. In his interactions with citizens across the country, while following the campaign, he believed a liberal majority seemed probable. The…
London, Ontario

Desbarats believed Trudeau was too good to be true as a politician and therefore, unfortunately, had a nowhere to go but down. He expounds on Trudeau's solid education, ethnic background, linguistic ability, appearance, finances,…
Ottawa, Ontario

Desbarats believed that the 1971 Ontario provincial election would indicate what future elections across the country would look like years in the future. More would be spent on advertisements (millions), they would be personality…
Montreal, Quebec

This article is the same as Montreal Conservatives give a prime minister's grandson a difficult debut, published in the Toronto Daily Star several days earlier.
Toronto, Ontario

Discussed a new political party, Action Canada, which seemed to have mass appeal but very few followers and very little buzz surrounding it.
Montreal, Quebec

Former Prime Minster Arthur Meighen's grandson, Michael Arthur Meighen, became the Conservative candidate in Westmount, Montreal. As the Conservatives held few positions in Quebec, Michael was in a difficult political role.
Rouyn, Quebec

Profiles Real Couette and his enduring political career in Quebec. The name of his party changed multiple times but not his values. Desbarats seems to have greatly admired the man.
Featured Item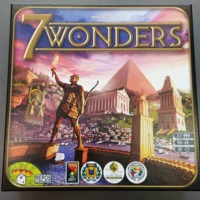 Players: 2-7
Playing time: 30 minutes
Ages: 10+

Description: Lead one of the seven great cities of the Ancient world. Exploit the natural…