Dirty Beasts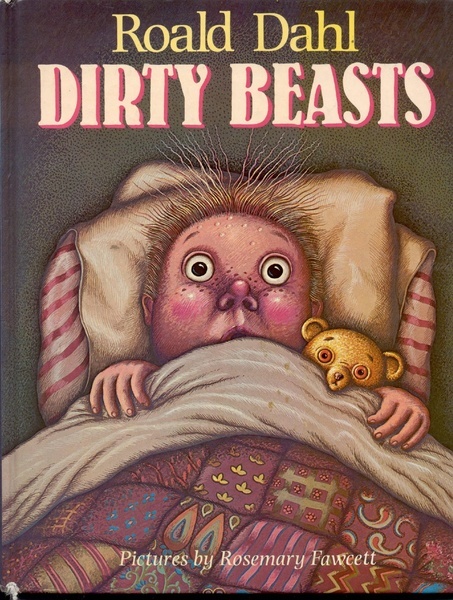 Dublin Core
Subject
Children's Poetry
Description
This book is a collection of nine poems about the unusual exploits of animals. The pig, realizing that he was born to be eaten, eats his farmer instead. The crocodile eats six children each Saturday. The lion proclaims that the narrator of the poem is his next meal. The scorpion likes to stings people's rumps when in bed. The anteater, after being starved, devours Roy, his owner, after first eating the boys aunt. The porcupine gets sat on by a girl who gets taken to the dentist to have the quills removed. The cow sprouts a pair of wings and drops a cowpat on a man who insults her. The toad meets a boy and travels from England to France where, upon hearing that the French are planning on eating him, presses a button on his head that turns him into a snail. The French still want to eat him, so he presses the button again, becomes a bird, and flies away with the boy. The tummy beast lives inside a boy and tells him to eat something or her will twist the boys guts.

This collection, along with Dahl's other book of poems "Revolting Rhymes", has been challenged due to gruesome subjects sometimes deemed inappropriate for the targeted age group.
Creator
Roald Dahl, Illus. Rosemary Fawcett
Publisher
London: Jonathon Cape
Collection
Citation
Roald Dahl, Illus. Rosemary Fawcett, "Dirty Beasts,"
Special Collections
, accessed January 31, 2023,
https://archive.fims.uwo.ca/specialcollections/items/show/84
.