Browse Items (9 total)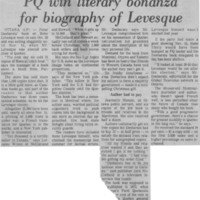 Discussion on Desbarats' biographical work on Rene Levesque, its popularity with the Canadian public.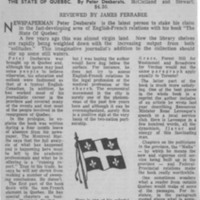 Book review regarding The State of Quebec, Desbarats' commentary on the historical developments which gave rise to the province of Quebec.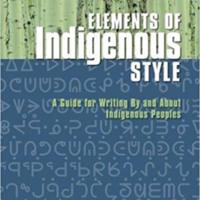 "Elements of Indigenous Style offers Indigenous writers and editors--and everyone creating works about Indigenous Peoples--the first published guide to common questions and issues of style and process. Everyone working in words or other media needs…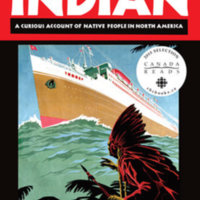 Rich with dark and light, pain and magic, The Inconvenient Indian distills the insights gleaned from Thomas King's critical and personal meditation on what it means to be "Indian" in North America, weaving the curiously circular tale of the…
London, Ontario

A generally positive review on Desbarats's "Looking Forward in Anguish: Canada Lost, Canada Found". Craig praises Desbarats on his level of critical overview of the key points leading up to Canada's political environment during the…
A negative review on Desbarats's polemic book "Canada Lost, Canada Found". Sheppard describes Desbarats's work as taking a rather cold and bitter analystical mindset whilst probing at the collective conscientiousness of Canadians at first, before…
Montreal, Quebec

A positive review on Desbarats's polemicist view on the national outlook of Canada. Zolf discusses the major points brought on through Desbarats's marshalled portrayal of the political situation within Canada - including the…
Montreal, Quebec

A surveying article on the sales of political and historical non-fiction books. Desbarats's biography on Rene Levesque is showcased as the current best selling book, despite laments from Francophones regarding the book's…
Montreal, Quebec

Richmond's interview with Peter Desbarats, following the release of Desbarats's book "Rene: A Canadian". Discussions on Rene Levesque's reactions to the biography, as well as Desbarats's own interviews with the contributors of his…
Featured Item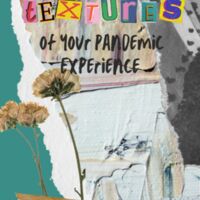 A collaborative zine made about the FIMS community experience with the COVID19 pandemic.